We're Getting Mutants in the MCU - The Loop
Play Sound

What are the Tech Trees?
[
]
The Tech Trees are the main route to progress through the game. They contain all of the Upgrades and Generators in the game. Each Tech Tree contains different subdivisions of history and organisms, such as the Primordial Soup, or the Iron Age. There are currently three Tech Trees and 8 Sub-Trees.
Unlocking Tech Trees
[
]
The Tech Tree becomes available after the player obtains their first 10 Entropy points by clicking/tapping. Afterwards, there will be an arrow pointing to the Tech Tree that is now available.
Tech Trees (Including Sub-Trees)

[

]
Tech Tree of Life
[
]
- Primordial Soup Sub-Tree
- Amino Acids 15 entropy
- DNA 100 entropy
- Prokaryotic Cell 600 entropy
- Eukaryotic Cell 3,000 entropy
- Marine Sub-Tree
- Sponge 10,000 entropy
- Jellyfish 40,000 entropy
- Flatworm 200,000 entropy
- Fish 1.67 million entropy
- Terrestrial Sub-Tree
- Tetrapod 73.68 million entropy
- Mammal 1.66 billion entropy
- Ape 67 billion entropy
- Human 1.77 trillion entropy
- Cyborg 4.42 quadrillion entropy
- Superhuman 13.21 quintillion entropy
- Humanoid Colonist 1.32 sextillion entropy
- Reptiles and Birds Sub-Tree
- Turtle 35.80 billion entropy
- Crocodilia 61.00 trillion entropy
- Lizard 3.30 quintillion entropy
- Snake 167.00 quintillion entropy
- Galliformes 6.67 sextillion entropy
- Anseriformes 52.00 septillion entropy
- Palaeognathae 25.40 octillion entropy
- Neoaves 8.35 nonillion entropy
- Mammals Sub-Tree
- Glires 412.00 billion entropy
- Ungulates 80.50 trillion entropy
- Marsupials 18.70 quadrillion entropy
- Caniform 7.89 sextillion entropy
- Cetaceans 13.00 octillion entropy
- Monotremes 400.00 nonillion entropy
- Feliform 476.00 undecillion entropy
Dawn of Civilization
[
]
- Ancient Civilizations
- Stone Age 46 ideas
- Neolithic 460 ideas
- Bronze Age 1,380 ideas
- Iron Age 6,900 ideas
- Pre-Industrial Civilizations
- Middle Ages 23,000 ideas
- Age of Discovery 138,000 ideas
- Scientific Revolution 575,000 ideas
-Technological Civilizations
- Industrial Revolution 3.83 million ideas
- Atomic Age 283.95 million ideas
- Information Age 9.20 billion ideas
- Emergent Age (Leads into Colonization of Mars) 172.50 billion ideas
- Singularity 9.82 trillion ideas
- Android 101.11 quadrillion ideas
- Sentient Android 1.32 quintillion ideas
Colonization of Mars
[
]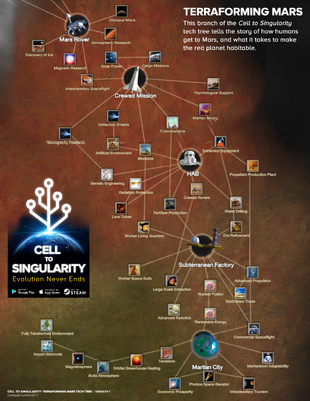 - Rover 12.27 trillion ideas
- Human Expedition 979.74 quadrillion ideas
- Martian Settlement 10.57 sextillion ideas
- Martian Factory 4.76 septillion ideas
- Martian City 4.40 octillion ideas
- Archosaur 3,74 fossils
- Ornitischia 60 fossils
- Stegosaurus 720 fossils
- Ankylosaurus 8.640 fossils
- Triceratops 103.680 fossils
- Pterosaur 1.24 million fossils
- Plesiosaur 14.93 million fossils
- Saurischia 179.16 million fossils
- Sauropoda 2.15 billion fossils
- Therapoda 25.80 billion fossils
- Compsognathus 309.58 billion fossils
- Velociraptor 3.72 trillion fossils
- Pachycephalosaurus 44.58 trillion fossils
- Gallimimus 534.97 trillion fossils
- Archaeopteryx 6.42 quadrillion fossils
- Brachiosaurus 77.04 quadrillion fossils
- Tyrannosaurus Rex 924.42 quadrillion fossils
- Spinosaurus 11.09 quintillion fossils
- Iguanodon 133.12 quintillion fossils
- Ichthyosaur 1.60 sextillion fossils
- Cynodont 19.17 sextillion fossils
- Eoraptor 230.02 sextillion fossils
- Mosasaurus 2.76 septillion fossils
- Argentinosaurus 33.12 septillion fossils
- Giganotosaurus 397.5 septillion fossils
- Sun 10 stardust
- Mercury 60 stardust
- Venus 600 stardust
- Earth 6.000 stardust
- Mars 80.000 stardust
- Moon 2.40 million stardust
- Asteroid Belt 144.00 million stardust
- Ceres 2.16 billion stardust
- Vesta 86.40 billion stardust
- Jupiter 259.00 billion stardust
- Io 2.07 trillion stardust
- Europa 20.70 trillion stardust
- Ganymede 249.00 trillion stardust
- Callisto 3.73 quadrillion stardust
- Saturn 29.90 quadrillion stardust
- Titan 358.00 quadrillion stardust
- Enceladus 5.37 quintillion stardust
- Uranus 161.00 quintillion stardust
- Neptune 6.45 sextillion stardust
- Triton 51.60 sextillion stardust
- Pluto 4.13 septillion stardust
- Shoemaker Levy 9 41.30 septillion stardust
- Halley's Comet 826.00 septillion stardust
- Hale-Bopp 41.296 octillion stardust
- Kuiper Belt 2.06 nonillion stardust
- Haumea 248.00 nonillion stardust
- Makemake 37.20 decillion stardust
- Eris 7.43 undecillion stardust
- Heliosphere 594.00 undecillion stardust
- Sedna 26.70 duodecillion stardust
- Planet X 1.07 tredecillion stardust
- Hills Cloud 64.19 tredecillion stardust
- Oort Cloud 3.21 quattuordecillion stardust
- Alpha Centauri 6.42 quindecillion stardust
- Ground Telescope 15 honeycomb mirrors
- Hubble Telescope 2,500 honeycomb mirrors
- James Webb Telescope 50,000 honeycomb mirrors
- Development 60.00 million honeycomb mirrors
- Construction 25.00 billion honeycomb mirrors
- Launch 120.00 billion honeycomb mirrors